Wednesday, November 11, 2015
5:00pm - 6:00pm
Egg Press [www.eggpress.com]
2181 NW Nicolai Street
Portland, OR 97210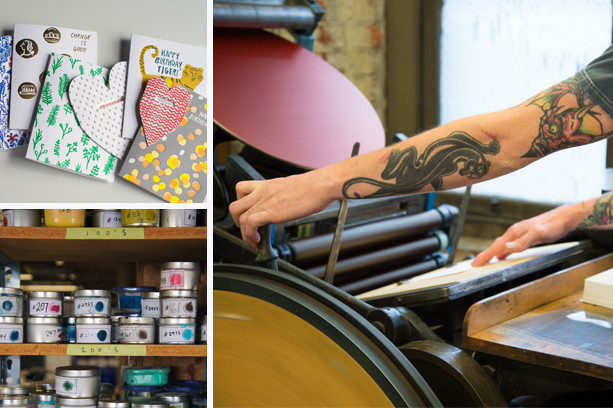 The resurgence of the letterpress printing has been driven by a few pioneers, who demonstrate through creativity and exploration the beauty and significance of this hand craft as an art form. Portland's own Egg Press is one of those at the helm of the movement. A letterpress print shop, design studio, and greeting card company, Egg Press is known for their sophisticated color palette, hand-drawn illustrations, all over textile-inspired patterns — and a killer sense of humor. In addition to their greeting cards, screen printing and custom design, they've worked on specialized projects for multi-national companies like Herman Miller, MoMA, Nike, Adidas, Apple, as well as products for illustrious local companies like the Ace Hotel and Schoolhouse Electric.  
Join us as we explore with founder Tess Darrow how to maintain a creative entrepreneurial spirit, while understanding the timelines and needs of companies of all shapes and sizes. Find out how this innovative company has grown and flourished, with a passionate fan base and strong sense of community, at this fall's studio tour.
What's Studio Tours?
Studio Tours is a bi-monthly or more event, developed by AIGA Portland. It provides the public with a rare guided tour around different creative studios in Portland. Discover for yourself what makes these companies tick. Space is limited and spots tend to fill up super quick.
What kind of Studios?
Past Studio Tours have included: Nemo, W+K, Keen, Second Story and Ziba.
The tour is $10.00 for non-AIGA members and $5 for AIGA members. Spots are limited and fill up quickly.
As one of the pioneers of the resurgence of the letterpress movement, Portland's own Egg Press has been creating hand-drawn illustrations and textile-inspired patterns for over 15 years — with creativity, community, and a killer sense of humor. Join us as we talk with founder Tess Darrow about blending the needs of multi-national and local companies with a passionate entrepreneurial spirit at this fall's studio tour.