Welcome to Portland, Oregon! A city known for its intersection of creativity and weirdness, and--most recently--for its nascent legal marijuana business. Opportunities for designers in the cannabis industry are growing. Do you ever wonder "How do brands stand out, and what exactly does the future hold for such a fledgling industry?" Join Jeremy Pelley and Fritz Mesenbrink of OMFGCO for an insightful exploration of branding for the cannabis sector. They'll talk about the unique issues of breaking into a fledgling industry, some history of OMFGCO before and after venturing into this niche, and what's next. They'll share interesting anecdotes, oddities and things discovered along the way. Bring your questions!

About the Speakers: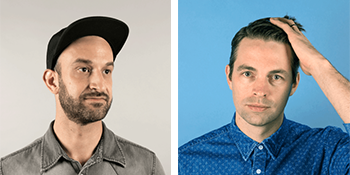 Jeremy Pelley hails from Lubbock, Texas, the home of dirt and heat. He is Co-founder and Creative Director of Portland, Oregon's Official Manufacturing Company (aka OMFGCO), a creative agency that builds brands for visionaries.

Jelly Helm once called him "one of the most intense laid-back dudes I have ever met." Jeremy has brown hair, brown eyes and is above average in height. He is a Libra, and he flosses, both literally and metaphorically.

Fritz Mesenbrink hails from Forks, Washington, the home of trees and rain (and now vampires). He is Co-founder and Creative Director of Portland's own, OMFGCO, the biggest little branding studio west of the Mississippi.

In spite of directing award-winning brands, he can't help but sing in the people's key. Fritz has brown hair, blue eyes and is tall. He is an Aquarius and is naturally good at many things, including being bad at multi-tasking.
What is Career Tools?
Career Tools is a breakfast series presented every quarter. It provides the Portland design community with practical and truly helpful information like developing client relationships, public speaking and presentation skills, managing your studio or freelancing business, and adopting new practices and process to deliver projects across any channel, including print, digital, interactive and video. Career Tools provides information you can take away and implement immediately to improve your company, career, and community.

Can't make it, but have burning questions?
Lunch and learn with OMFGCO Monday, May 15th from 12–1pm PST as Jeremy and Fritz take over the AIGA Portland twitter channel. They'll provide career insight and answer your questions! Join the conversation and tweet @aigaportland!
Be sure to check out our blog posts for an event recap as we'll be highlighting key takeaways from the event!
---
Sponsors:


52 Limited is a digital resource company connecting creative + technology talent with leading brands, marketing and engineering departments, start-ups, design firms, advertising and interactive agencies. 52 Limited began as Portland's only locally-owned creative staffing agency and now serves some of the world's most recognizable and forward-thinking companies in Portland, Seattle and San Francisco.


CENTRL Office is a collaborative, co-working space in Portland, OR. They provide flexible, full-service office space for some of Portland's leading entrepreneurs, free agents, start ups, and work groups. Located on both sides of the river, in the Pearl district's historic GE Supply Co. building, and in the Slate at the Burnside bridgehead at Couch and MLK, in the Central Eastside.