Even the best laid plans can take a turn in an unanticipated direction; a difficult client, a company goes out of business, a career change. Join us for Career Tools as we host designer and author, Aaron Draplin, who will explore how dead ends and u-turns can actually guide your career into new and interesting directions.

About the Speaker: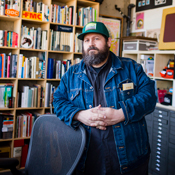 Aaron Draplin runs Draplin Design Co., located in the mighty Pacific Northwest. Draplin Design Co. proudly rolls up its sleeves on a number of projects related to the Print, Identity and Illustration categories. They make stuff for Coal Headwear, Union Binding Co., Richmond Fontaine, Esquire, Nike, Wired, Dinosaur Jr, Timberline, Chunklet, Eaux Claires, Poler, Incase, Giro, Cobra Dogs, Jill Soloway, Sasquatch! Music Festival, Rhett Miller, Old 97s, Nixon Watches, Patagonia, Target, Megafaun, Danava, Ford Motor Company, Woolrich and even the Obama Administration, if you can believe that. They've traveled the world telling their story, with 275 speaking fiascos under their belt and counting! They co-created Field Notes with their older brother Jim Coudal, and their memo books are sold in over 2,000 stores worldwide, with limited-edition special editions shipped quarterly to a booming subscriber list. Draplin's first book titled "Pretty Much Everything" came out on May 17, 2016 on Abrams Books, which incredibly, is already in its third printing.
What is Career Tools?
Career Tools is a breakfast series presented every quarter. It provides the Portland design community with practical and truly helpful information like developing client relationships, public speaking and presentation skills, managing your studio or freelancing business, and adopting new practices and process to deliver projects across any channel, including print, digital, interactive and video. Career Tools provides information you can take away and implement immediately to improve your company, career, and community.

Can't make it but have burning questions?
Lunch and learn with Draplin Monday, January 16th from 12–1pm PST as he takes over the aigaportland twitter. Draplin will be providing career insight and answering your questions! Join the conversation and tweet @aigaportland!

Be sure to check out our blog post-event as we'll be highlighting key takeaways with a recap.
Sponsor:


52 Limited is a digital resource company connecting creative + technology talent with leading brands, marketing and engineering departments, start-ups, design firms, advertising and interactive agencies. 52 Limited began as Portland's only locally-owned creative staffing agency and now serves some of the world's most recognizable and forward-thinking companies in Portland, Seattle and San Francisco.