Cozy up in your ugly sweater, grab a beer and show us your holiday cheer! December dMob: Holiday Edition will be at The Rambler. Prizes will be awarded to the top 3 UGLIEST sweaters!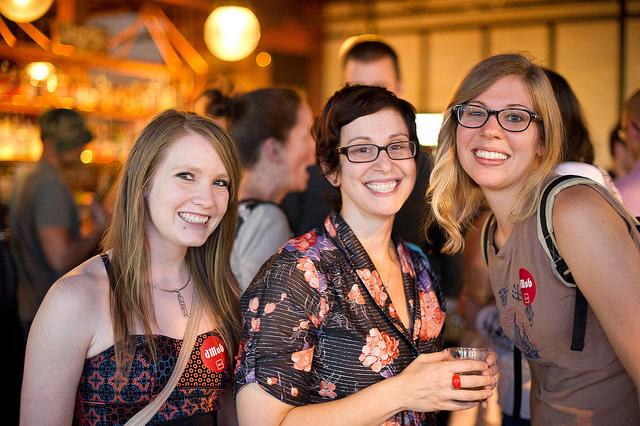 The dMob Concept
This is our monthly gathering for the entire Portland design community. Social interaction and networking is at the core of this AIGA Portland event – we encourage discussion, business development, and work to help foster a more dynamic design community here in Portland. Plus, with such a plethora of independent breweries, our choice of venues and beverages is expansive.
How much is dMob?
Free and open to the public. That's right, no charge! First and foremost, you'll have a great time. Even better, it's an amazing opportunity to network and meet fellow designers.
When is dMob?
On the 2nd Wednesday of each month.
Where is dMob?
dMob is hosted by a different Portland venue every month (typically a bar, patio, or restaurant). Locations are selected by rotating between the four city quadrants, making it interesting and easily accessible to anyone.
What goes on at dMob?
When you arrive, you'll get a sticker to wear. Venture forth, find another sticker-wearer and offer them a drink. It's a great way to break the ice and meet new people. AIGA Portland wants to encourage discussion, business development, and help foster a more dynamic design community in Portland. Here amongst this friendly, laid-back group of design professionals, you're bound to find inspiration, opportunity, friendship or, at the very least, some really great beer!
Photos from past dMobs:
You can now view past event photos at our Flickr gallery.