*Note: Event is free to attend and registration is not required.
The original BYOTee printing party is back! Join us Wednesday, August 8 from 6–9PM for our 8th annual dMob dLux. This summer we are embracing our inner jet-setter to feature artwork from a diverse group of illustrators from Brazil, San Diego, and NYC. These are creative heavyweights and this event is not one to be missed! Get inspired and join us for some good times with good friends on Rontom's sun-drenched patio.
This year's silkscreen printing will be done by Collin Richard of Make House Printing.
We will be featuring artwork from: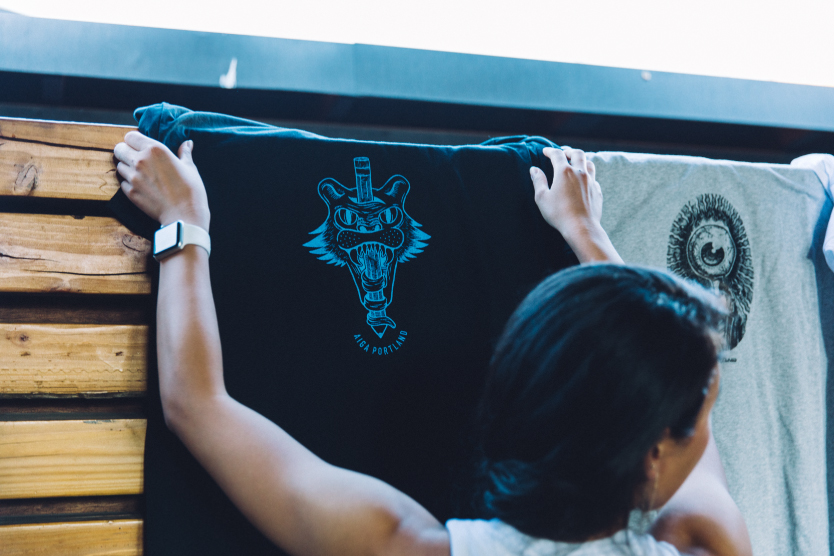 Photos: Silas Sao
It's a FREE event! BYOTee! Blank tees will also be available for purchase.
Special thanks to Andy Portello for organizing this year's lineup.
Tell me about dMob!
dMob (or Design Mob) is a free gathering for every friend, fan, and patron of design and the visual arts. You're a part of Portland's energetic design community, and this is for you. Since 2003, AIGA Portland orchestrates a friendly, laid-back dMob on the 2nd Wednesday of every other month. Get to know people. Talk shop with cohorts. Offer to buy someone a drink! Inspiration, opportunity, and friendship abound.
Join the mob
Want to be part of the action and help organize dMob? We are always looking for volunteers, photographers, videographers, and copywriters! Email: volunteer@portland.aiga.org for more information.