dMob dLux is at it again, comin' at you with our BYOTee screen printing party! Join us Wednesday, August 14, from 6–9PM for our 9th annual dMob dLux. This year's silkscreen printing will be done by Collin Richard of Make House Printing and feature designs by stellar local artists. We are so happy to have Rontoms host again us on their spacious and sun-filled patio! Feel free to bring non-tee items for printing, tote bags, hoodies, bandanas, etc. 
The featured artists this year will be:
**Images are samples of their work, not exact designs to be printed.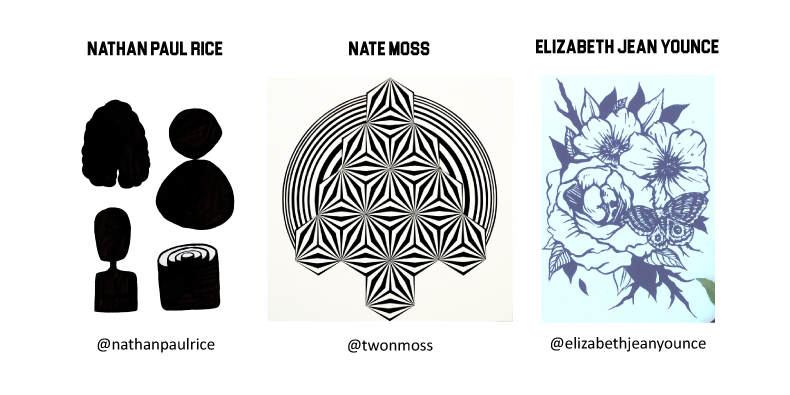 Nate Moss (IG: @nathanpaulrice)
Nathan Paul Rice (IG: @twonmoss)
Elizabeth Jean Younce (Mustard Beetle Handmade)
(IG: @elizabethjeanyounce and @mustardbeetle)
Photos from last year: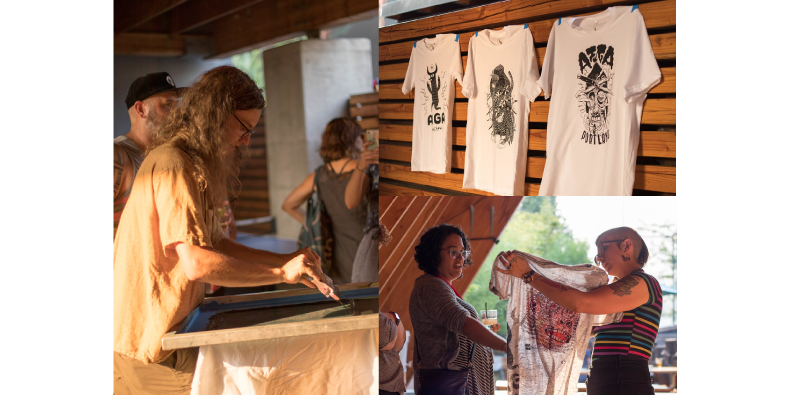 Photos: Minh Le
It's a FREE event! BYOTee! *Blank tees will also be available for purchase.
Tell me about dMob!
dMob (or Design Mob) is a free gathering for every friend, fan, and patron of design and the visual arts. You're a part of Portland's energetic design community, and this is for you. Since 2003, AIGA Portland orchestrates a friendly, laid-back dMob on the 2nd Wednesday of every other month. Get to know people. Talk shop with cohorts. Offer to buy someone a drink! Inspiration, opportunity, and friendship abound. 
Join the mob
Want to be part of the action and help organize dMob? We are always looking for volunteers, photographers, videographers, and copywriters!  Email: abeezus87@gmail.com for more information.