This October, answer the call of dMob: FULL BLEED at Paymaster Lounge on NW 17th. There is safety in numbers. So as it gets colder and the nights get darker, come out and celebrate the spirit of Halloween at this autumn dMob. Join us at Paymaster Lounge for drinks, great conversation, a bit of mystery, and festive fun!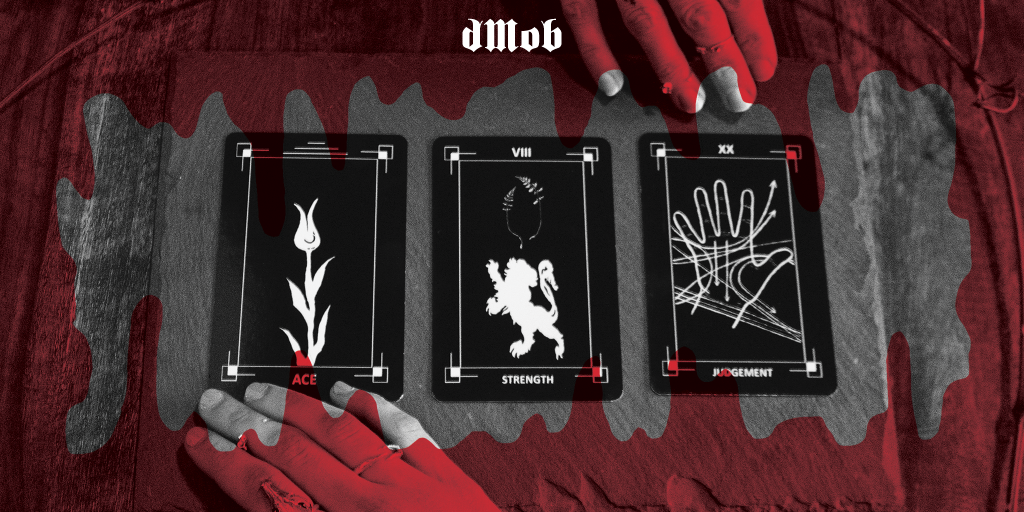 Photo by Sierra Breshears
For this dMobCollabs, we are riding that Stranger Things wave with OMFGCO to tap into classic spooky nostalgia for dMob: FULL BLEED. Check out more work from OMFGCO.
Tarot readings will be provided by Coleman Stevenson of Dark Exact. Channel your energy. You might just learn a few things about yourself. Readings are first come first serve.
Conjure up your patronus charm and find your spirit animal at dMob. Our pals from Venderia are giving each attendee their very own spirit animal. Find more magic in the Venderia vending machine at Paymaster Lounge!
Don't worry, it's not Chthulu calling. It's dMob! Come join us.
What is dMob?
dMob is a free social event launched by AIGA Portland in 2003. On the 2nd Wednesday of every other month, often following an AIGA Studio Tour nearby, it's the place to connect with people driving Portland's energetic design community. With dMob Collaborations, we invite local creatives to help us craft a unique experience and fresh visuals for dMob.

Check out this recap video from our recent dMob!

What goes on at dMob?
When you arrive, you'll get a sticker to wear. Venture forth, find another sticker-wearer and offer them a drink. It's a great way to break the ice and meet new people. AIGA Portland wants to encourage discussion, business development, and foster a more dynamic design community in Portland. Here amongst this friendly, laid-back group of design professionals, you're bound to find inspiration, opportunity, friendship or, at the very least, some really great beer!
Make new creative friends and never forget the dMob mantra: "Can I buy you a drink?"
Where is dMob?
dMob is hosted by a different Portland venue every other month (typically a bar, patio, or restaurant). Locations are selected by rotating between the four city quadrants, making it interesting and easily accessible to anyone.
JOIN THE MOB
Want to be part of the action and help organize dMob? We have openings for volunteers and photographers. Email: monica@portland.aiga.org for more information.