Wednesday, March 8, 2017
Doors 6:00pm
Event 6:30 - 9:00pm
Holocene
1001 SE Morrison St
Portland, OR 97214
Must be 21+ to attend.
Free to all. **Registration required.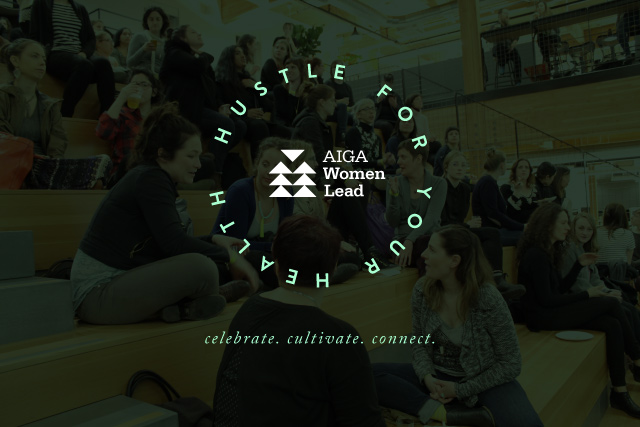 March 8th is International Women's Day, and the AIGA Women Lead Initiative (formerly Women in Design) is celebrating by turning our attention to women's health. Join us and take a step back from your daily demands as we celebrate, educate and inspire during Hustle for Your Health.
We'll be gathering together at Holocene to discuss women's physical and mental well-being. Hear from a diverse group of speakers, including sex therapists, tech innovators, artists, doctors, psychologists and more. The topic of women's health will be championed through a night of dialogue and exploration, including interactive booths and informative tables. More information to be announced soon!
Don't miss this exciting opportunity to learn about what it means to Hustle for Your Health.
SPEAKERS:
Mary Nolan, Executive Director
Planned Parenthood Advocates of Oregon

Dawn Emerick, Director of Public Health 
Clackamas County

Elizabeth Hayes, Staff Reporter, Health Care
Portland Business Journal

Kathryn Peck, Social Media Manager
OHSU

Andrea J. Wright Johnston, Licensed Marriage & Family Therapist/Sex Therapy
Portland Family Therapy

Jessica Dorrington, PT, MPT, OCS, CMPT, PRPC, CSCS, Director of Physical Therapy
Therapeutic Associates Bethany Physical Therapy

Amory Jane, Education Coordinator
She Bop

Susan Cushman, Artist
Claybia

Alison Edelman, MD, MPHProfessor,
Department of OB/GYN OHSU

Lee Hullender Rubin, DAOM, LAc, FABORM
Portland Acupuncture Studio

Jennifer Oechsner, Martial Artist, Yoga Instructor, Nutritionist, Personal Trainer
Warior Flow

Mindy Nettifee, Performance Poet and Storyteller
Mindy Nettifee of The Cult of Mindy


TABLES:

Planned Parenthood
Oregon Foundation for Reproductive Health
Breathe PDX
Project Object
Therapeutic Associates Bethany Physical Therapy
Susan Cushman / Claybia
Keep A Breast
AIGA Portland
---
This event series aims to:
Celebrate the achievements of women in design.

Cultivate awareness of gender-related issues, while building knowledge and leadership skills.

Connect by facilitating relationships within and beyond the design industry.
Find out more about the Women Lead Initiative | #AIGAWomenLead
You can also participate by:
Sending a digital WLI postcard to a woman you admire on International Women's Day (March 8) or any time of the year.

AIGA members get exclusive access to a free download of the Gender Equity Tool kit.
Not an AIGA member? Join today.
---
**Your registration constitutes permission to use photos, audio and video recording taken of you at the event for promotional and educational purposes in connection with AIGA events and activities, in corresponding publications, in AIGA's archives and on AIGA's website.
Event rates are based on membership status at the time of registration. Memberships are non-transferable.
All ticket sales for pre- and post-events are final, no refunds will be granted.
Substitutions must be from the same member type to member type or from nonmember to nonmember, otherwise the difference in per person registration fees will be due.
Event is subject to cancellation or change. Speakers are subject to change without prior notice.